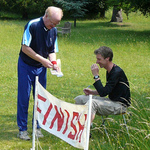 The Orienteering Club for Cambridgeshire, East Bedfordshire and North Hertfordshire
WAOC is a very active club with a membership exceeding 150 orienteers of all ages and abilities. We host lots of different activities from weekly club nights to major orienteering events.
Orienteering is an outdoor sport enjoyed either competitively or recreationally, where the usual type of event is to navigate on foot around a forested area using a specially drawn map. Events are staged as races, but not everyone regards it as such, and you'll be very welcome whatever your motivation.
If you're new to Orienteering, try our Welcome To WAOC and What is Orienteering pages for more information on what it's all about. Or try this Youtube video.